Preparing Clean Healthy Spores for Shipment
Extracted Spores
This photo shows a random population of spores collected manually after sucrose centrifugation and washing. Because spores of D. spurca are colorless, departures from the healthy condition are fairly easily detected.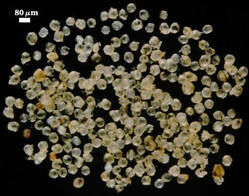 Degraded or Dead Spores
Small colorless or light-colored spored species like D. spurca show infrequent parasitism. More often, spores are dead and are devoid of contents (as seen at left). These spore husks do not degrade rapidly and can persist in continuous cultures for generations. To eliminate this background "noise", new cultures need to be started from spores after 2-3 culture generations.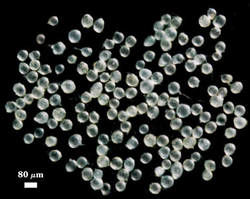 Healthy Spores
Diversispora spurca spores often have transparent centers because of lipid coalescence. They also may resemble other hyaline glomoid species with a fairly homogeneous distribution of smaller lipid globules. Either phenotype indicates good health and stability in this feature afer 48 hr in a refrigerator indicates a population ready for shipment.