Preparing Clean Healthy Spores for Shipment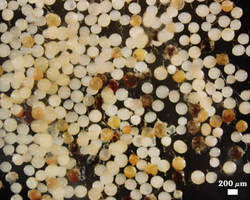 Extracted Spores
This photo shows a random population of spores collected manually after sucrose centrifugation and washing. The faint pink coloration of spores also appears to be due to transient pigments in the spore lumen rather than in the spore wall, which would account for the transient and highly variable nature of the pigmentation. Like Gi. gigantea, senescent, degraded, or parasitized spores are readily detected and can easily be culled from healthy spores.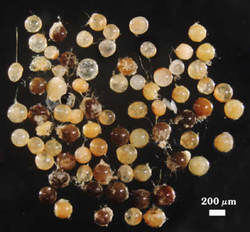 Degraded, Dead, or Parasitized Spores
These spores are easy recognized by any browning or blackening of contents, irregular contents, absence of contents, spots, surface fuzziness or signs of fungal growth, and other features indicating morphological irregularities.
Healthy Spores
After 48 hr in a refrigerator, some additional spores are likely to become discolored or senescent, and they are then removed. Once the remaining spores maintain a healthy appearance, the population is prepared for shipment.